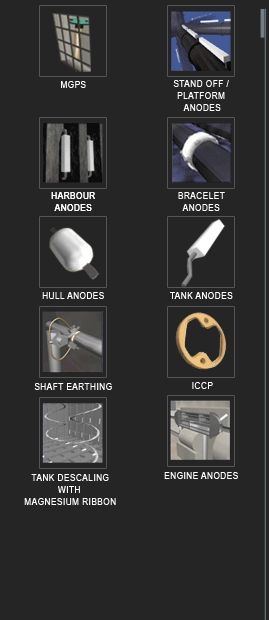 You are here:
Home
» Onshore Industrial Anodes
Onshore Cathodic Protection can be used for a wide range of structures as follows:
• Internal surfaces and external bases of Storage Tanks
• Power Stations - Internal and External Pipework
• Jetty Piles
• As with seawater applications, both sacrificial anodes and impressed current systems can be used.
• MCPS Ltd offer Magnesium alloy anodes for sacrificial requirements that are supplied bare or with rapid wetting backfill of the following composition:Powdered Gypsum 75 Granular Bentonite 20 Sodium Sulphate 5 The anode and backfill are contained in a cotton bag. Anodes are supplied with 3 metres of 7/0.67mm (2.5mm2 ) PVC insulated copper cable as standard. Different length or size of cable can be supplied on request. For more information please fill our enquiry form.