Company Profile:
You are here: Home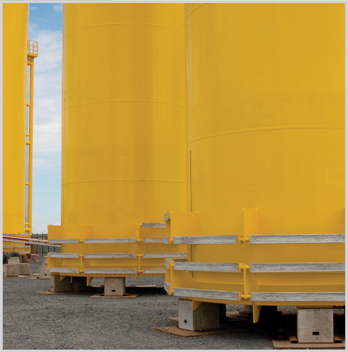 MCPS has over 10 years manufacturing and design experience in providing comprehensive Cathodic Protection (CP) and Marine Growth Prevention Systems (MGPS) to the Marine, Offshore Oil & Gas, Offshore
Wind Farms and Marine Civil Industries.
This high level of experience ensures that MCPS fully understands and are able to supply corrosion protection equipment in accordance with the most stringent requirements as demanded by the Industry sectors.

MCPS core business is to produce CP systems which consist of aluminium anodes, zinc anodes and magnesium sacrificial anodes. Our anode manufacturing facilities consist of a foundry in the South of England and also a foundry and Head Office in the North of England. Our company is ISO 9001:2008 and we manufacture in accordance with NACE SP0387-2006 and DNV-RP-B401 .
MCPS where necessary can also assist as corrosion engineers for CP design, service work and corrosion inspection and testing. MCPS provide all clients with high quality products, backed up with full documentation and certification.
Introduction
Corrosion is a natural process. Most metals, in their natural state (ores) are combined with other elements such as oxygen to form stable compounds. The ores are refined by man, alloyed for useful properties and ultimately fabricated into structures. Upon exposure to the natural environment, such as the sea, these metals gradually revert to their original oxidized state known as the corrosion process.
Owners often mistakenly believe that coating of submerged steel eliminate the need for correctly designed cathodic protection systems. Undamaged coatings suffer from the presence of microscopic pinholes, which lead to the development of concentrated areas of corrosion.
The preferred technique for mitigating aqueous corrosion is the practice of Cathodic Protection (CP).
Galvanic or sacrificial anodes are designed with a more negative electrochemical potential than the metal of the structure. The voltage potential of the steel surface is polarised (pushed) more negative until the surface of the structure has a uniform voltage potential and the driving force for the corrosion reaction is halted. The sacrificial anode continues to corrode (sacrifice), which consumes the anode material until it requires replacement. The polarisation is caused by the current flow from the anode to the cathode. The driving force for the CP current flow is the difference in electrochemical voltage potential between the anode and the cathode.
Quick Links: Sacrificial Aluminium Anodes Data Sheets, Aluminium Hull Anodes Data Sheets, Aluminium Disc Anodes Data Sheets, Aluminium Stand Off Anodes Data Sheets, Aluminium Tank Anodes Data Sheets, aluminium anodes production, cathodic protection using aluminium anodes, aluminium anodes for cathodic protection, API Connections, Hammer Lug Unions, Manifold Fittings, High Pressure Couplings & Hoses, API 6A Valves, High Pressure Seamless Pipe, Manufacturers and Stockists of High Pressure Pipeline and Drilling Equipment, ultrasonic antifouling, ultra sonic antifouling, ultrasonic anti fouling, ultra sonic anti fouling, USAF, Prevent Hull Fouling, Prevent Biofouling, Prevent MIC, Prevent Microbiological induced Corrosion, replaces antifouling boat paint, replaces antifouling Coating, Aquatic Nuisance Species (ANS), Alien Aquatic Species, ships ballast water treatment system, ballast water management